Women's Quest
Ultimate Wellness Adventure Retreats
This is no ordinary fitness or sightseeing vacation. This is a chance to reawaken your authentic self.
"What is it you plan to do with your one wild and precious life?"

~ Mary Oliver
Created by women for women, our fun-filled health and wellness trips have been transforming travelers of all ages for over 30 years.
Women's Quest wellness adventure retreats are the ultimate vacation designed to revitalize your body, refresh your spirit, and refill your joy tank.
Our retreats take fitness and well-being to a new level by blending the perfect mix of outdoor activities with mindful practices, including yoga meditation and qigong, to create an adventure that will spark your passion and empower you to LIVE LIFE to the FULLEST! Retreats are held in some of the most enchantingly beautiful places on earth—ideal backdrops for personal growth, transformation, and play! Come share a week with like-minded women and inspirational staff.
"You'll leave with your biggest smile ever, and the tools and support to keep it there." ~Women's Quest Founder Colleen Cannon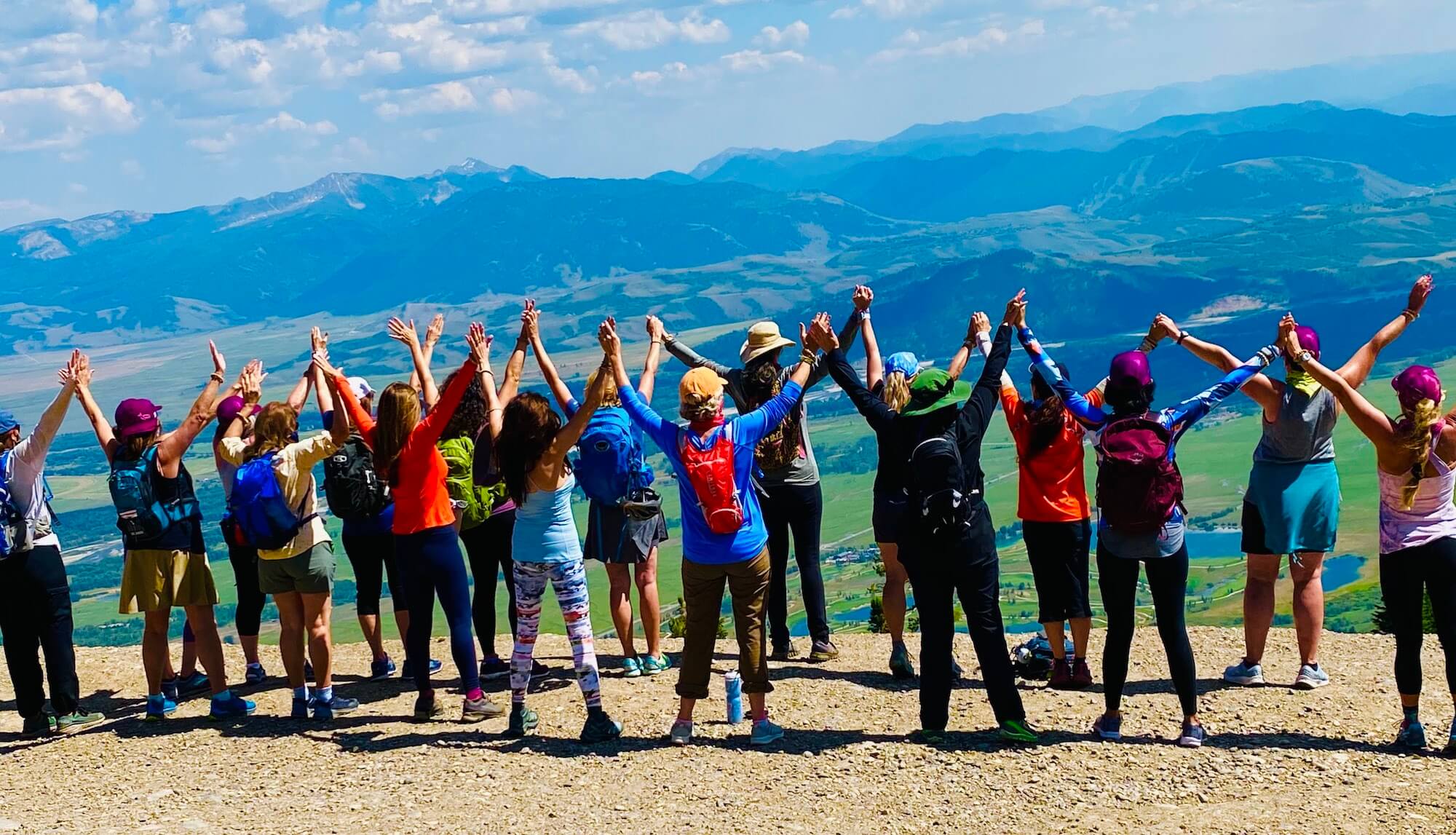 Join Our Newsletter
Receive occasional inspirational emails from us with our latest and greatest retreats PLUS tips and secrets from the PROS about health, wellness and travel! *We do not share this list with anyone and you can unsubscribe at any time.
Take Time For Yourself
At Women's Quest, we believe life is something to be lived to the fullest, not rushed through, or worse, sleepwalked through. Though we want to slow down, make changes, and create meaning in our lives, we are often too busy keeping up with our jam-packed schedule and not sure how to start.
The answer is simple (it has just been lost in our modern lives): go on a Quest, a journey of personal discovery.
With Women's Quest, you will begin this journey joined by a small group of like-minded travelers, each with different backgrounds and expectations, but with the common goal of following her bliss.
Empower Your Body & Mind
We have all had those triumphant moments when we achieved something that we thought was impossible.
Whether physical or mental, these occasions encourage us to continue to step beyond our present limitations and discover new powers within ourselves.
This is the spirit of Women's Quest, the culture that we foster on every trip. Our all-female staff of athletes, artists, dance and yoga instructors, body therapists, coaches, optimists, and inspiration junkies is committed to helping women reach their full potential in an atmosphere that is supportive, friendly, and non-competitive.
Live Your Adventure
Our retreats use physical activity as a vehicle to bring balance, self-awareness, and healthy attitudes into everyday life, all at a pace that's comfortable for YOU.
We're not hardcore, but we are extreme—as in extreme well-being. Each retreat is designed to rebuild your vitality and help you jump start a healthy routine that rekindles your kid energy. Basically we PLAY all day!
Imagine surfing and practicing yoga in Costa Rica, wine tasting and cycling through Tuscany or California, riding mountain bikes in Vermont and Colorado or hiking to reach the legendary Machu Picchu in Peru. This is Women's Quest-style travel.
Our Upcoming Retreats:
Life-changing active vacations with lasting results!
Women's Quest has a wellness retreat for every kind of outdoor adventure imaginable. From hiking the mountains of Peru, to horseback riding in Iceland, to surfing in Costa Rica and more, we have a retreat for you.
Come alone or come with friends; either way, you will leave with a new community of best friends and a heightened sense of wellbeing. Explore the world, embrace the outdoors, and connect to your true nature, all while experiencing the history, culture, and cuisine of our incredible retreat locations.
SOLD OUT
Feb 11-18th, 2023
If you've ever dreamed of playing in the warm ocean or feeling the exhilaration of riding a wave, then this is your adventure! Welcome to a surf paradise! With the perfect blend of surfing, yoga, sunshine, and delicious food, Pura Vida time is here.

March 5-11th, 2023
Transport yourself from winter to spring in the magical waters of Hawaii. This enchanting retreat held at tranquil Hookena Bay will nourish and relax every cell of your body.
April 13 – 23, 2023
oin us for a once-in-a-lifetime, customized tour to discover the magical wonders and irresistible culture of the Ecuadorian Highlands and then THE GALAPAGOS ISLANDS – the most pristine and magical ecosystems in the world.
May 21 – 26, 2023
This adventure retreat is about MOVEMENT for your body and soul. You'll cycle through the beautiful Russian River Valley (e-bikes available) and hike amongst mighty redwoods. Our "Hearts Desire" process takes you on an inner journey with meditation, massage, journaling, and creative activities.
July 9-15th, 2023
Join us as we take the road less traveled. Our journey will take us from the quaint city of St. John's and Petty Harbor to the spectacular, rugged hills of the UNESCO World Heritage Site, Gros Morne National Park.
Testimonials
Many of the women who attend Women's Quest return year after year and often bring friends or family members to share in this life changing experience. Letters and emails from participants mention how Women's Quest has changed a their life and taught them that they have the strength to achieve new heights.
"Women's Quest has been a life enriching, spiritual and physical experience for my daughter and for me. We have learned that nothing is impossible and that life is an adventure to savor and enjoy!"

Maria E
"This has been one of the greatest weeks of my life. It's been not only fun, but an incredible growth experience."

Karen A
"Women's Quest changed my life in a totally positive way more than any other single event I've ever experienced."

Molly M
In the News
Meet the Staff
Our staff is composed of World Champion and Olympic athletes who are all experts in the fields of fitness, health, and wellness. Colleen Cannon, who founded Women's Quest in 1992, has won over 100 races and is a World and National Champion in Triathlon.
We know how to connect to and listen to the body, and more importantly, we understand the power of inner well-being and mindfulness. We bring this knowledge and experience, coupled with our love for play, to our retreats around the globe. We also work closely with our beloved local guides who share their home with us and give us the inside scoop of every location.
Meet Colleen
Colleen Cannon founded Women's Quest after a highly successful career as a professional triathlete. In her racing days, she was World Champion in 1984 and National Champion in 1988 and 1990. She also was a multiple U.S. National team member.
Her passions, besides chocolate and being in nature, are liberating and empowering women through movement and balance, and targeting their true "hearts' desire." Colleen continues to EVOLVE adventures for Women's Quest, delighting in ways to ENCHANT women with the experiences that coax happiness grown from joyful physical experiences.
Lorraine Moller
Olympic Medalist / Run Coach
Lorraine is a four-time Olympian, a three-time world champion, Olympic bronze medalist, and winner of sixteen…
Jacqueline Stanford
WQ Chief Fun Officer
"Live life to its fullest" "FANTASTIC" Jacqueline Stanford was born on a farm in Western Canada where…
Kelly Páez
Yoga Instructor / Women's Quest Staff
Kelly Páez began her Yogic studies in the Krama yoga school under the guidance of her first teacher, Esteban Salazar…
Christina Russel
Mountain Bike / Dance / Massage
Christina was born in Montreal Canada and grew up in New England where she cultivated her love of the…
Giving Back
We partner closely with local guides to ensure that we approach each community with respect and understanding of their place and culture. Working with local guides also enables us to support local businesses and communities, and every retreat has a philanthropic give back project.
Join The Quest​
Missing the feeling of being on a retreat? Welcome to the Quest Ohana. OHANA translates to family in the Hawaiian language, and our community has truly become one.
This online monthly membership empowers you with the tools, content, and support to create a more sustainable, happy, healthy and balanced lifestyle of wellness, from the inside out.
Our virtual platform provides you with live workouts, events and discussions with inspirational speakers, interactive group gatherings, guided meditations, and more to help you create your dream life now.