Vermont Adventure Retreat
Stowe, Vermont
Cost: $2850
Sept 7 -12th, 2024
Word has it that our best retreats are in Vermont . . . so exotic destinations, move over! Our greenest state is proof that some of the prettiest playgrounds don't require a passport. We'll stay at the exclusive Trout Club, a historic, private fishing club nestled in the Green Mountains, with world-class cuisine and acclaimed hospitality, not to mention Vermont's best hiking and biking trails right outside your door, including the famous 256-mile Long Trail. Tucked beside a private lake at the end of a long road, the Trout Club is a true hideaway, a place you won't be able to find on the internet. There is no doubt you will love Vermont.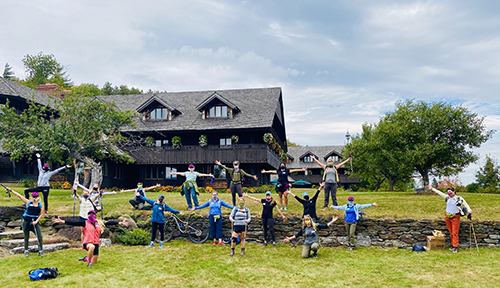 Our fun-filled activities including hiking, biking, canoeing, and "Awakening the Senses" yoga are suitable for all abilities and experience levels. No matter if you are a complete newcomer to any of our activities, or a seasoned pro at all of them, our expert staff will guide you in the company of others of your ability, in a supportive non-competitive environment. We'll also leave plenty of downtime, to read a book on the swimming dock, to journal while lounging in our sunny lawn, to dance in the lodge's cheery great room with your new girlfriends, or to just relax in a rocking chair on our large wrap-around porch listening to the murmur of a nearby stream.
Our retreats in Vermont would not be complete without a tour of Ben & Jerry's ice cream, a Maple Syrup demo and visit, along with some time in town to explore the locally produced cheeses and one-of-a-kind art. But perhaps the greatest treat our getaway in Vermont has in store for you is the deep sense of rejuvenation that comes from unplugging from your everyday, and reconnecting with the sights and sounds of serenity. Come play with us at the restorative Trapp Family Lodge in Vermont!
What to Expect:
Awaken in natural rhythm with the sun, coming into your fresh, new day slowly. Join us for a gentle morning yoga session followed by a gourmet, family-style breakfast. After breakfast, we'll break into small groups for an uplifting mountain bike ride. You can choose an easy or challenging course, depending on how you feel that day. Either way, you'll ride with women of your same ability and comfort level. We'll refuel with a hearty, energizing lunch or if we're out biking on location, like the famous bike path in Stowe or the Trapp Valley Lodge trails (aka mountain biking paradise, and yes, we're talking the same Von Trapps from The Sound of Music), we'll enjoy lunch in town, with one very special lunch planned at the Bavarian Café on the Von Trapp property – truly a cultural and culinary experience to remember! After lunch, you'll have free time to swim, canoe, or kayak in our private lake, lounge on the dock with a good book, or fold yourself into a rocking chair on our adorable wrap-around porch. After a decadent dinner, it's time to tap into our creative vision with lectures, demonstrations, and creative exercises, including our trademark Heart's Desire process, designed to awaken your dreams and unleash your full potential. The evening ends by 9:00 p.m., ensuring you're in sync with the man in the moon.
Highlights:
Freshwater lakes, breathtaking views, and spectacular forest trails for daily adventures, all part of our remote playground.
Daily yoga and balancing practices, including massage *extra fee, Qigong, and quiet time to enjoy the exquisite surroundings of our lakeside retreat.
Outdoor adventures for all ability levels, including hiking, trail running, and mountain biking in magical forests and magnificent meadows, and canoeing and SUPing, (possible fishing) and swimming in some of Vermont's most secret spots.
Mountain biking on the Stowe bike path, considered the most beautiful bike path in the country.
Mountain biking at Trapps Family Lodge or you may choose hiking this day as well
Day trip to town to shop local artisans. Includes tours of Ben & Jerry's ice cream factory, Cold Hollow Cider Mill, and Cabot Creamery Annex. One afternoon we visit Audrey and her families Maple Syrup Farm
Day trip to The Trapp Valley Lodge, a 2,400-acre playground. We'll bike some of the most serene, scenic trails in existence, with well-kept beginner friendly terrain and spectacular scenery. Lunch on site at the Von Trapp's exquisite Bavarian café is a once-in-a-lifetime experience.
Daily inspirational talks, heartfelt discussion and sharing, visualization, journaling and creative activities.
Expert health, wellness, and training tips from the pros on staff.
Massage available all day, everyday for an extra cost.
Immersion into nature, and the opportunity to re-sync with her natural rhythms.
Lots of laughter, friendship, and relaxation.
Included in the price:
Five nights at the charming Trout Club. Single rooms extra charge.
Delicious, healthy meals featuring fresh, organic food cooked by our on site chef. Two lunches will be on your own to experience the local cuisine in Stowe, and at the Bavarian Café at Trapps
All tours including Ben & Jerry's ice cream factory, Cold Hollow Cider Mill, Cabot Creamery Annex and Maple Syrup visit
Yoga instruction in the morning (Please bring your own mat)
Use of canoes/SUP
Professional instruction and guidance for all activities.
* Airfare and transportation to and from the airport 2 lunches and bike rentals are not included in the cost
What are the accommodations?
We'll stay at the exclusive Trout Club, a historic, private fishing club nestled in the Green Mountains, with world-class cuisine and acclaimed hospitality, not to mention Vermont's best hiking and biking trails right outside your door, including the famous 256-mile Long Trail. The charming rooms are simple, yet comfortable, with hand-hewn beams and rustic fieldstone, uncomplicated by televisions, cell phone service, and other disruptions of nature's rhythm. If you need to say connected you can go down the road about a mile and use your cell phone or check your messages each day when we go into town. We think the greatest treat our getaway in Vermont has in store for you is the deep sense of rejuvenation that comes from unplugging from your everyday, and reconnecting with the sights and sounds of serenity.
The rooms are basic and not very fancy but we will be spending all of our time out on the amazing deck overlooking the lake. (Some rooms have bathrooms in the rooms and some have bathrooms down the hall) We have limited single rooms available for an additional cost of $850.
Here is the description of the hike right out our door: Explore the notch with its beautiful view of Lake Mansfield and the valley below from the top of this trail. Stroll along this historic trail enjoying the lush vegetation and signs of wildlife as you slowly but steadily climb to the waterfalls. This picturesque setting allows you to marvel at nature's beauty. Shortly, you will pass by an active beaver pond on your right after crossing a few small streams. The trail leads to Taylor Lodge (Long Trail hikers' shelter) which is your destination. Enjoy the view from the Lodge back down the Nebraska Valley. The Trout Club is at the beginning of this trail in the Nebraska Valley.
What will the food be like?
The food at the Trout Club is out of this world!! Seriously 5 Star! It is one reason we love our retreats in Vermont. We will eat family style and there is plenty of fresh, home made gourmet meals prepared for us morning, noon and night. The Trout Club provides entrees (usually meat, chicken or fish) and can accommodate a vegetarian entrée as well. Fresh fruit and Odwalla Bars are always available. Please indicate any dietary restrictions; we try to accommodate your special needs. The food is one of the BEST parts of the retreat—"YUM!" We have renamed this retreat "Food Quest"!
What weather can I expect?
The Trout Club is located in Stowe Vermont. September daytime temperatures are refreshingly pleasant ranging from the 50's to 65 degrees. We could get rain so bring your waterproof rain jacket just in case
Am I in good enough shape to do this retreat?
Most Likely! We adapt to all levels of fitness. You can choose to walk/hike, walk/run, or run. We teach you practical skills for mountain biking—useful for both beginners and experienced riders. We have a variety of trail options for biking, and for walking/hiking/running. Groups are formed according to each woman's level of fitness, experience, and desire to challenge themselves. We do suggest that you start a training or workout program before you come so that you can get the most out of the retreat. Your training does not need to be a hard-core program…just get out and PLAY and BE ACTIVE several days a week.
Do I have to participate in everything on the schedule?
You do not need to participate in everything; you can pace yourself so that it is the perfect amount of activity for you. We fully support you in doing as much or as little as is right for you in the moment. The schedule gives you a sense of the flow of each day. It is subject to change, depending upon the needs of the group, weather, etc. We will go over the schedule each day at breakfast.
Do we have free time for a massage?
Absolutely! This retreat is for YOU. We offer plenty of activities, but there is no pressure to do everything. There is a mid-day break each day for reading, napping or enjoying new friends. WQ will email you a schedule so you can choose your times according to that. Most days we will be riding from 9:00-12:00 (stopping for breaks and looking around) and lunch from 12:30-1:30, anytime after 1:30 is a good time for a massage! We have great massage therapists that join us from Stowe, for $100.00 per hour.
Tell me about the Yoga
We begin each adventure-filled Women's Quest day with a unique "Awakening the Senses Yoga." This gentle but powerful practice draws inspiration from Gyrokinesis, Qigong, and Tai Chi, and is a perfect way to prepare the mind, body and senses for the activities of the day.
What is the mountain bike riding be like?
We will be mountain biking for 2 days:
Day One: We will be riding on the famous paved Stowe Bike path, which was named the most beautiful bike path in America. This bike path meanders along the Stowe River and goes for about 6 miles in one direction. For the more advanced riders, after we teach the drills and skills, we will ride on the Mt Mansfield Trail System of single-track trails.
Day Two: We go to Trapps Family lodge, which has over 20 miles of flowing private trails suited for novice to veteran bikers. The progression of trails is perfect for first-timers or anyone looking to develop skills and confidence gradually.
What kind of mountain bikes will be available to rent?
We will be renting full or front suspension Mt bikes are around $65 to $85 a day which includes the trail pass
What if I want to bring my own mountain bike?
That's fine. If you are driving, just bring it along but make sure it has been serviced and that the tires are good. If you are flying, we do not recommend that you bring your bike; it is often not worth the cost and hassle. Here is the info to consider if you decide to bring your bike: Most airlines charge a fee of at least $50 to $100 each way to bring a bike. A cheaper option is to ship your bike directly. If packed in a bike box, shipping is usually between $50 to $75 each way. We can email you the address if you want to ship your bike.
What is the average age on this retreat?
We have a wide range of women who attend our retreats in Vermont, from 15-70 years young. Each retreat will vary. Please contact us if you have questions about the ages on a specific retreat.
What if I am coming alone?
The majority of the women who attend our retreats come by themselves. Even if you may come alone to the Vermont retreat alone, you will leave the retreat with new, lifelong friends!
Tell me about the staff
The staff is an inspiring and spirited group of women!!! Jacqueline Stanford will be hosting this retreat. You will have the chance to play with women who are both phenomenal athletes and articulate teachers. You will receive cutting-edge instruction with heartfelt support and encouragement. The high staff-to-camper ratio allows opportunity for individual guidance, safe supervision of all activities, and personal attention to your feelings and needs. We organize the groups to accommodate all fitness levels and levels of experience.
Payment Policy
A deposit is required to hold your reservation at a retreat. Deposits are $500 for domestic and $1,000 for international retreats. Additional deposits may be required to reserve a single room. All deposits are non-refundable.
We cannot hold your reservation until we have received your deposit. If you would like to reserve an available spot in a retreat 90 or fewer days prior to the retreat date, we require payment in full for the retreat to hold the spot. This is in accordance with our payment policy below.
Payment in full for all retreats is due 90 days prior to the retreat date. If you do not provide payment in full by 90 days prior to the retreat you risk losing your reservation.
A 4% payment processing fee will be added to all payments made using PayPal, Stripe or Venmo.
You are welcome to send in a check or pay by Zelle to avoid this fee.
Cancellation Policy
If you must cancel a reservation, a full refund, less your deposit which is non-refundable, will be provided for any cancellation we receive in writing at least 91 days prior to the commencement date of the retreat. We are sorry but we cannot refund any payments for cancellations made 90 or fewer days prior to the commencement of the retreat.
We reserve the right to cancel retreats with inadequate participant interest. Women's Quest IS NOT responsible for any personal expenses, such as airline tickets due to changes in schedules or tour cancellations.
Covid-19 Policy
Cancellations by Women's Quest: Women's Quest reserves the right, at its sole discretion, to cancel or reschedule any retreat due to concerns over Covid-19. As a small company Women's Quest is unfortunately not able to provide refunds of payments for retreats cancelled by Women's Quest due to the Covid pandemic. This is primarily due to our financial commitments with the various retreat venues. As a result, in the event Women's Quest cancels or reschedules a retreat due to Covid-19 Women's Quest will apply all payments to the rescheduled or following year's retreat, or to any other Women's Quest retreat of your choosing through the end of the next year after the year in which the retreat was cancelled by Women's Quest. Because of the unforeseen and unprecedented circumstances of the outbreak, this policy supersedes earlier policies.
Cancellations by You: If you need or desire to cancel your reservation due to Covid-19, or failure to comply with the requirements of a negative test and being symptom free, this cancellation is subject to the Cancellation Policy above. This is why we urge everyone to purchase travel insurance when signing up.
Covid Waiver and Release:
This waiver, release and acknowledgment of responsibilities is unfortunately necessary during this unique time of the Covid 19 pandemic. By signing up for and or attending any Women's Quest retreat you agree to be bound by the terms of this document. We understand these times are challenging, however, these provisions are necessary to protect all attendees and staff members of Women's Quest.
Testing For and Symptoms of Covid 19. Irrespective of vaccination status you are required to provide a negative test for Covid 19 taken within 3 days of the commencement of the retreat. This test can be either a PCR test or a home antigen test. Also, irrespective of your vaccination status, you agree you will not attend the retreat if you have any symptoms of Covid 19 immediately prior to the beginning of the trip. These symptoms include fever or chills, cough, shortness of breath or difficulty breathing, fatigue, muscle or body aches, headache, new loss of taste or smell, sore throat, congestion or runny nose, nausea or vomiting, or diarrhea (these, along with symptoms outline in the following link and guidance from the Centers for Disease Control shall be collectively referred to as the "Symptoms".) More information on symptoms of Covid 19 can be found here: https://www.cdc.gov/coronavirus/2019-ncov/symptoms-testing/symptoms.html
Symptoms During the Retreat. In the event you develop any Symptoms during the retreat you must immediately leave the retreat and follow protocols outlined by the Centers for Disease Control and all local regulations. We understand this may result in you incurring significant expenses associated with separate accommodation and travel, however, you understand these expenses are not the responsibility of Women's Quest and must be incurred by you. You agree to be fully honest with Women's Quest staff in regard to any Symptoms you may develop and agree to comply with a request by Women's Quest staff to depart as determined by Women's Quest staff in their sole discretion. As provided below, this is why we strongly urge everyone to get travel insurance covering these and other expenses prior to departure.
Procedures During the Retreat. During the retreat Women's Quest may, but need not, endeavor to practice social distancing and wearing of masks when traveling in close proximity. You agree to comply with all requests of Women's Quest staff during the retreat related to these procedures. Any such procedures implemented by Women's Quest are not a guaranty you will not be exposed to Covid 19 and you understand you are responsible for taking any precautions you deem necessary and providing your own personal protective equipment during the retreat. You also agree to comply with any reasonable requests by other attendees to respect their social distancing and other protective measures ("Participant Requests".) Notwithstanding the foregoing, you are responsible to comply with all laws and regulations of the locality visited relating to protections against Covid 19.
Waiver of Coronavirus Related Illness; Indemnification. You understand that irrespective of protective measures that Women's Quest or you may or may not take, you may be exposed to Covid 19 by another retreat attendee, a Women's Quest staff member and or an individual to whom you may be exposed during, or traveling to or from the retreat. You agree to waive and release Women's Quest, its officers, directors, staff, employees, contractors, and partners from any claims, liabilities or damages you may incur in the event you contract Covid 19 at any time during travel to, attending or after attending the retreat. You further agree to indemnify and hold harmless Women's Quest, its officers, directors, staff, employees, contractors, and partners from any loss, liability or damages it or they may incur as a result of your failure to receive a negative test for Covid 19 prior to the retreat as provided above, attending the retreat with any Symptoms, not respecting Participant Requests, and not immediately departing the retreat if you develop any Symptoms.
Cancellation. In the unfortunate event you need to cancel your trip, cannot attend due to contracting Covid 19 or developing Symptoms prior to the retreat, or must leave the retreat due to contracting Covid 19 or developing Symptoms, Women's Quest cannot provide any refund of any amounts you paid.
Travel Insurance. As provided in this document you could incur significant personal expense in the event you contract Covid 19 or develop any Symptoms during the retreat. As such, you are strongly urged to obtain travel insurance that provides adequate protections against these risks.
Additional Waiver. This waiver is incorporated into and made a part of other waivers you agreed to in connection with signing up for the retreat. In the event of a conflict between these terms and the terms of any other waiver, this waiver shall govern.
Purchasing Travel Insurance
We highly, highly recommend you get travel insurance to cover your expenses and losses, in the event you cannot make the Women's Quest retreat for any reason or if you test positive or come down with Symptoms prior to the retreat, develop Symptoms during the retreat, or cannot return home due to Covid related issues. We recommend getting insurance that covers the cost of your trip, medical care while at the retreat, and coverage to pay for the necessary quarantine period if you test positive or come down with Covid. Please remember, if you have to cancel your trip in the unfortunate event you come down with Covid, test positive, or suffer Symptoms prior to or during the retreat and need to leave, Women's Quest cannot provide a refund since we have to pay your trip expenses well ahead of time.
If you are concerned about travel and the changing environment in which we are living irrespective of your Covid status, we recommend getting travel insurance that allows you to cancel for any reason. This coverage is more expensive, however, may provide you with the coverage and flexibility you desire.
Irrespective of the travel insurance you get, please make sure you talk to a travel insurance agent prior to buying any insurance and make sure you have the coverage you desire and that the policy will cover trip cancellation, medical expenses and trip interruption due to Covid.
You can do your own investigation by checking out Squaremouth, a travel insurance comparison company that helps travelers search, compare and buy travel insurance online https://www.squaremouth.com/22393
So, are you ready to join us on our retreat in Vermont? Sign up now!